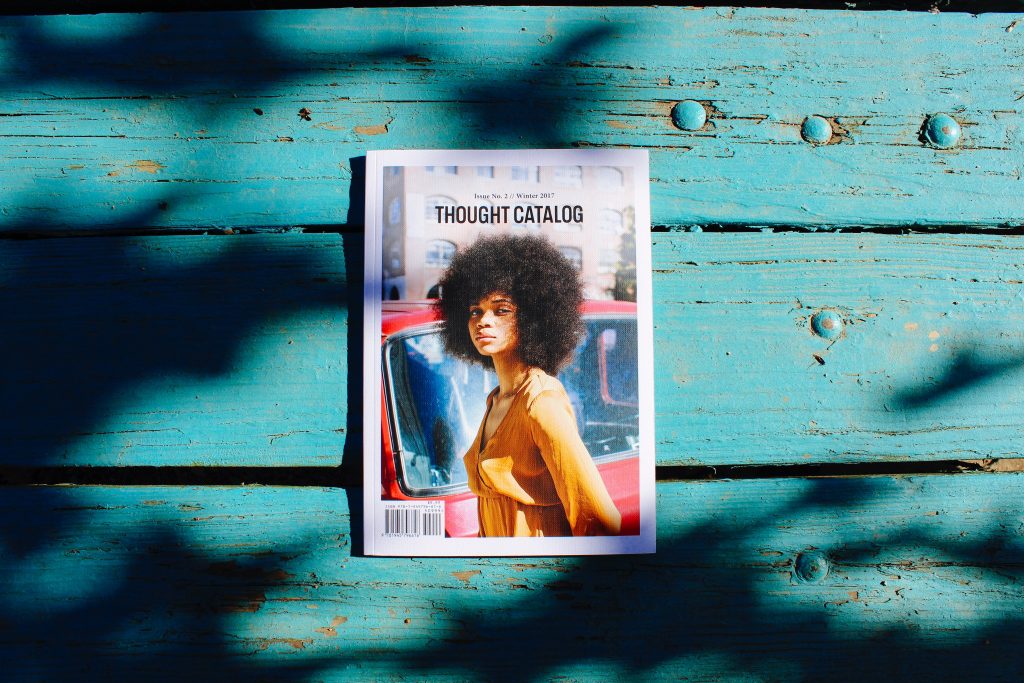 To catch our brand new webinar each week live, you need to be a member of our coaching or Dream Buffet programs, but as you may have already discovered, you can also catch one webinar for FREE from our archives each weekday at 5pm EST.
This coming week, in our free webinars for June, we've got something very special on the schedule…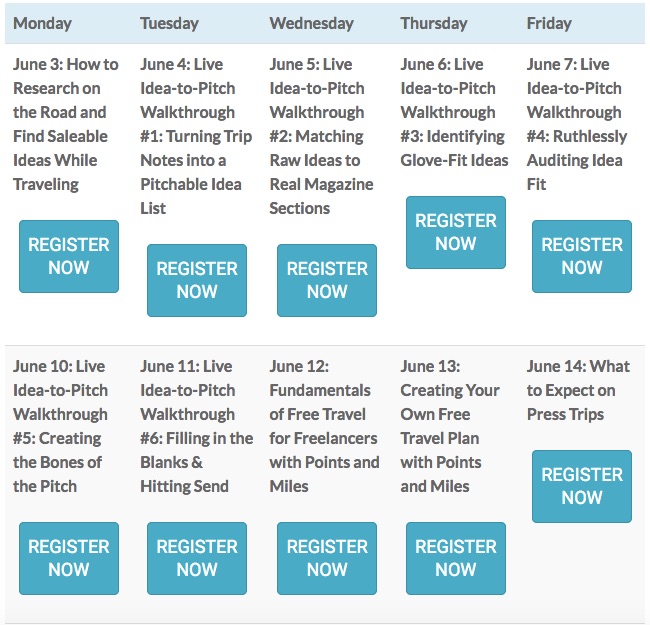 …the very first chance to catch a landmark Idea-to-Pitch webinar series that we did anywhere outside of our coaching and Dream Buffet programs.
It's not even available yet for purchase in our webinar library!
The Whole Point of the Idea-to-Pitch Series
In this new series, we offer a (probably shocking to many of you) window on how pitching takes place for an established writer in the most minimal time with the least possible fuss as we walk from initial trip notes all the way to polished pitches leaving my inbox right before your eyes.
This is probably the #1 thing I am every asked for help with by writers–getting more pitches out, finding ideas from their trips, and getting it all done faster.
To make sure you can see and ask questions about my decision-making at every phase, I walk through each step of the process completely live with no prep work outside of our calls (or cheating, as I would call it!) to pretty things up or do more digging into an idea.
As you can imagine, it was a bit stressful for me to show up each week and hope I would get everything outlined done in that hour, but we did it!
And pitches went out of my inbox live on the call.
If you've been struggling with any of these aspects of the pitching process, I highly recommend checking out these webinars. You can catch the free previews here, and we'll be adding them to our webinar library soon.
But, you can also get access to all of these webinars to download, stream, listen to as an audio file, or read through as a transcript, and generally take in in whatever manner is most ideal for you at whatever time suits you with a membership in our Dream Buffet.
What the Idea-to-Pitch Series Covers
In this series, the process of taking your trip from memories to completed pitches unfolds over six distinct parts:
Turning Your Trip Notes into a Pitchable Idea List: To kick off the series, we begin with the notes from my travels in the Czech Republic over the summer, transforming my ideas from that time, which are no longer fresh in my mind, into potential article ideas and article types. You'll learn how to develop a sense for what is and is not a pitchable idea from the types of information you're deluged with on a trip, and I'll also note what types of articles could develop from each idea as we go along.
Matching Raw Ideas to Real Magazine Sections: Continuing in our landmark series walking, entirely live, through every stage in the process of putting together a number of pitches in just a few hours, we dive into the dreaded matching phase. I know that for many of you, this part of the process—finding a good "home" for your article ideas—can be the most trying part of the question, often lasting for weeks and sometimes months. In this webinar, you'll see me take my entire list of pitch ideas from the previous week and make as many good matches as I can in an hour.
Identifying Glove-Fit Ideas: In the last webinar in this series, which shows live every stage in the process of putting together a number of pitches in just a few hours, I compiled a list of article ideas matched to specific magazines and sections within those magazines. As we went through, I included things that were pretty sure-fire fits along with ones that I needed to check on further to make sure that the idea would really fly for the given section (which we will verify in this webinar by looking at past examples of articles in that section) and the magazine in general (which we will check against the demographics and general voice of the publication). This hour goes from wide (where we've been in the past several hours of this series) to narrow as we slim from the ideas that we like to the ideas that actually have a shot with the magazines in question.
Ruthlessly Auditing Idea Fit: Four hours into our series and we're still working on the ideas! It seems like it will take us forever to get to the actually pitching writing, but that's part of why we're doing this series: if you're diving into a word processing document earlier than this, you're doing it wrong. Making sure that your idea itself is solid, salable, and safe for you to stick your neck out with AND that it is a perfect fit for the section you're pitching it to is actually the secret to saving tons of time with your pitches while also netting a higher acceptance rate along the way. Fewer, better pitches always win. Having a 90% acceptance rate sending five pitches a month will do better for you than sending 20 pitches with a 20% acceptance rate (4.5 acceptances vs. 4). You can do estimate the time savings yourself! In this webinar, we'll narrow the ideas we've been working on even further so that we're only moving forward with the ones that absolutely, as far as we can tell not being inside the magazine, have a chance of success as we finesse both the fit and the quality of the idea, focusing on looking for that "why" that really makes the idea pop when the editor reads our pitch.
Creating the Bones of the Pitch: We've made it through so many stages of the pitch writing process than many folks lump into writing that are actually distinctly separate prep activities: pulling ideas from you trip, matching them to magazines, refining the best fits, and choosing the low-hanging fruit with the best chance of success and the easiest path to putting the pitch together. Now the real writing begins! But staring at a blank page is a way to shock any creative mind into panic, so we will begin instead by putting together the easier building blocks of the pitch in an almost placeholder-like style with minimal stress and research just to get our quick thoughts on the page. Learning this trick to getting the basis of a pitch out quickly alone, can easily save you an hour per pitch.
Filling in the Blanks and Hitting Send: Even though it seems like we're at the end of the line, this is actually the hardest part of the pitching process and where I see many of you getting completely stuck. It's too easy to be fully flush with the facts and fit of an idea, step away from it for a bit, then come back and have doubts because you're not up-to-date on all of the details of the situation, and then decide that you really shouldn't send the pitch after all. In this webinar, we walk through live examples so you can see when enough is enough, when to cut and run, and how, exactly, to get pitches out of your inbox and into the playing field quickly and with minimal fuss.
We hope to catch you on the free preview of the series next week and the following week–but don't forget: each free webinar is only available at 5pm EST on the scheduled day. If that doesn't work for you, you can grab videos of all of these webinars, along with:
streamable and downloadable video (so you can spend subway rides, boring layovers and long flights moving your career forward)
streamable and downloadable audio (perfect for listening in the car or at the gym)
full slide deck (this way you can cut and paste every single script we use!)
complete transcript (these usually run 15-30 pages because we cover so much in each hour)
…and all of these other resources:
exclusive live access to our webinars and monthly ask-me-anything calls limited only to members of the Dream Buffet and coaching programs
downloadable and steamable videos for all of our past webinars (nearly 200 so far with new ones added every week!) after they air and the transcript of the call as soon as its ready–members of Dream Buffet and our coaching programs get access before the webinars are set up in our paid library
detailed breakdowns of exactly which sections are open to freelancers and how to pitch them in more than 500 magazines
more than 400 detailed answers to questions about every facet of freelance travel writing, from how to email editors to what to say to land a travel content marketing client (and we've got folks going through our past webinars and pulling new ones to add throughout this month!), in our On-Demand Coaching Concierge system
the ability to submit their own questions for inclusion in the database through a quick "request" right from any screen of the coaching concierge site if you can't find what you need
**NEW** access to hundreds of industry research reports, courses on freelancing and productivity from top names in the game, and other resources from Gabi's personal library
…with a membership to our Dream Buffet right now!
Join our FREE daily webinars!
Every weekday, we offer free, one-hour video courses that help you grow your travel writing income. Every we'll send you reminders of what we're covering each week, from perfecting your pitches to writing feature articles to getting more assignments from each trip.
Don't miss out. They're free!