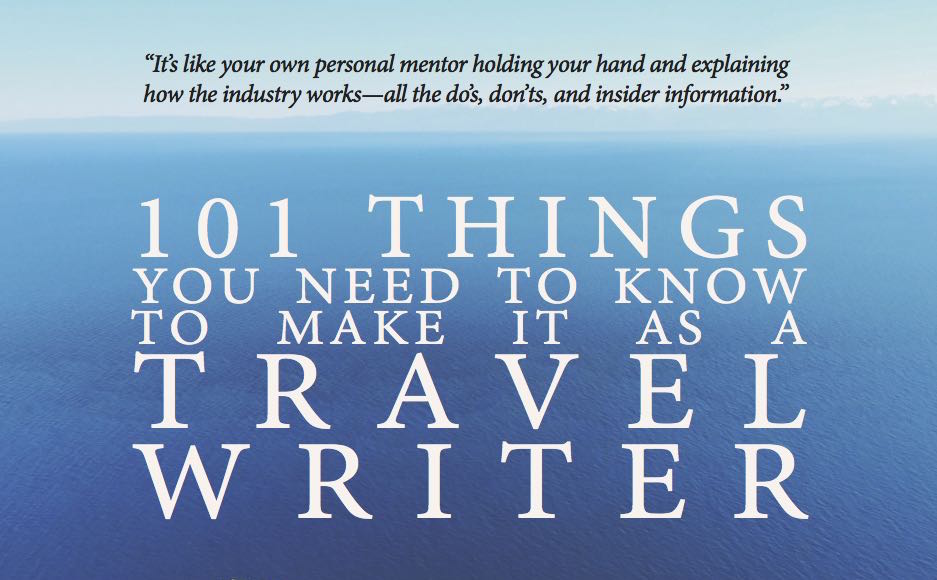 We actually have a category here on our blog called "Free Stuff," and I have been clicking it a lot lately.
Just now, as the first of our two books debuting this spring edges its way out into the world, I find myself clicking it once again, because we have put together some very special bonuses for anyone interested in purchasing 101 Things You Need to Know to Make it as a Travel Writer from us directly.
How Our Direct-Buy Bonuses Work and Why We're Going This Route
With any print book, if you don't pick it up at the book store (who has room in their suitcase for that anyway?!), there's always that lag…you know, between when you're excited about the book and buy it, and when you actually get the book in the mail.
And then, half the time, when the book arrives, you've got a ton of other things on your plate, and you can't read it right away anyway, so it sits on your dining room table taunting you.
Okay, that could just be me! But you know what I mean, right?
We wanted to do several things to address this, most notably:
Give you four free webinars of your choice from our webinar library that you can dive into right away to broaden your knowledge on whatever you are most stuck on.
Offer a guided experience toward getting clarity on where you are currently stuck in your travel writing to help you get the most not only out of 101 Things You Need to Know to Make it as a Travel Writer, but also your larger travel writing career.
As we were working together across continents and oceans on all of the things that went into creating this new book, from choosing which questions to answer (thank you to all of those who helped with that!) to designing the additional materials the book would include to polishing the copy to designing the cover, we ran into one burr in the process.
If you buy the book through Amazon, which produces the print copies for us, there is no way for us to get you these bonuses right away.
Amazon doesn't share the email addresses of purchases with authors, so there is absolutely no way for me to set up an email to go to you automatically with either the coupon for the webinars OR the other bonus materials over email.
You'd have to buy the book on Amazon, then send us the receipt, and then wait 12-72 hours (depending on if there's a weekend in the middle) for my lovely customer communications person to reply to you with your coupon code and set you up for email with bonus materials.
And I think that's just too long for you to wait!
We also realized, that if you buy the book through us and then we set up the Amazon order for you, you can take advantage of the fact that I have Amazon prime, which I know not everyone does, so we can offer the shipping for free with all the orders as well as faster shipping than you might have opted for on your own.
So, we are delighted to announce, you can now order 101 Things You Need to Know to Make it as a Travel Writing, along with a coupon for four free webinars and our special bonus materials at this link, and we'll also get your book out to you with free, fast shipping!
What Can You Expect to Find in 101 Things You Need to Know to Make it As a Travel Writer?
Designed to speak to those that are completely new to travel writer and wondering how to get started along with those who have been at it for a while but just can't seem to crack the code to get to the next level, 101 Things You Need to Know to Make it as a Travel Writer uses a question-and-answer format to address common misconceptions about pitching magazines, setting up free travel, and more.
Addressing all those other situations that seem to only exist in the "fabulous" life of a travel writer, this book offers deep answers on each topic that highlight important information about how the industry works with tried-and-true techniques that create a successful career presented with plug-and-play scripts for everything from following up on a pitch to negotiating a contract.
This book tackles questions selected by your travel writing peers as the ones they most want answers on, including:
Am I bothering editors if I continue to pitch them after they have said no?
How can I earn a six-figure income from travel writing and what does that look like?
I'm going on a press trip and I need a confirmed assignment, how do get a response from an editor fast?
What should I do if I pitched an article before a trip but the activity or experience actually turns out to not be as good as I thought it would be?
When do I need to write my travel story before approaching an editor?
Why is an editor not responding to my pitches?
Where can I find press trips to go on?
Can I send the same pitch to multiple magazines?
What should I include in a pitch to get on a press trip?
What do I do if an editor says "let me take it to the editorial meeting," and then doesn't get back to me?
What should I include in a contract?
What terms can I negotiate in my contract?
What should I do if someone on a press trip wants to buy my photos?
How do I know which editor I should pitch at a magazine?
…and 87 more things you've always wanted to know about how to be a successful freelance travel writer!
We've organized the book into sections of different aspects of the travel-writing life, so you can either find what you want quickly or take a deep dive on a topic, including:
Pitching
Dealing with Editor Responses
Following Up
Trade Magazines
Press Trips
Making the Business of Freelancing Work
Negotiating
Interviewing and Sources
Travel Content Marketing
and more!