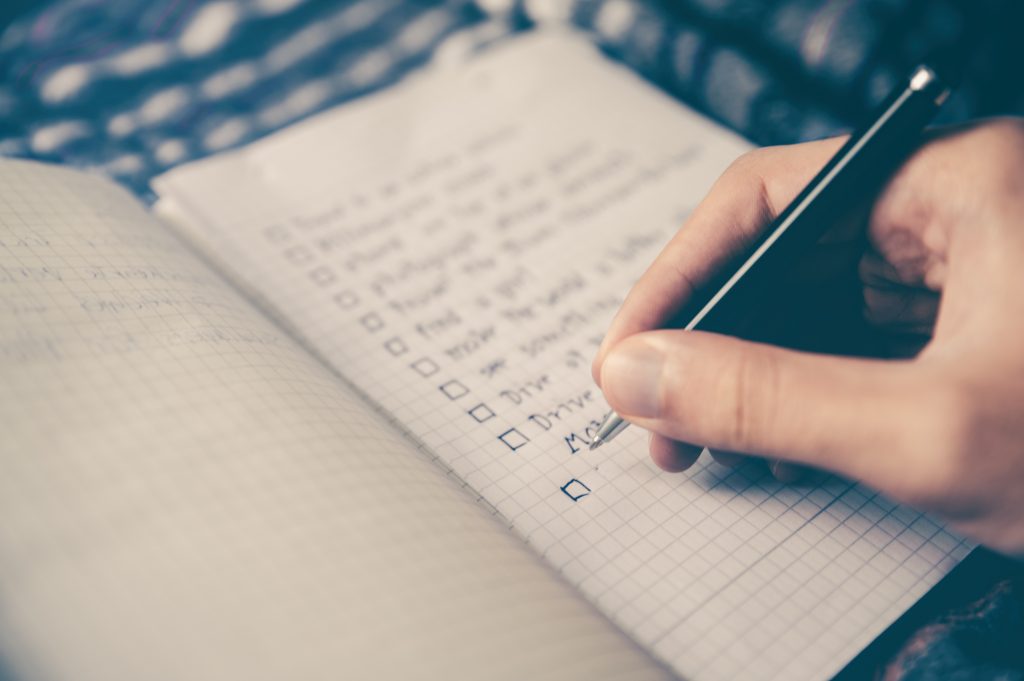 A few years ago, I came across the idea of microactions: things you can do in incredible short amounts of time (they focus on seven minutes) to move your career forward, whether in terms of networking, getting organized, increasing revenue, or clearing your head to be more productive when you dive back into work.
These micro tasks are great for all of those times when you're:
waiting for a bus, subway, or Uber
picking someone up and waiting for them to get to your car
brushing your teeth (I love to read inspiring blog posts then it gets me ready to get down to work in the morning)
having a smoke break
in line at the airport or customs
dining out by yourself and waiting for your food to come
waiting for the barista to make your latte
at a restaurant before your dining companion has arrived
in line at the drug store, grocery store, etc.
and so many other little windows
The Seven Minute Difference has several cheat sheets of microactions for people in several different professions, but due to the nature of travel writing, we both:
end up with a disproportionate amount of this kind of time as we travel
have a lot of different types of small actions we can do that don't apply to other professions
So I created my own list of travel writer microactions that can be done in seven to 10 minutes. Try them out and let me know how they help you move your travel writing career forward.
Check MediaKitty and BloggerBridge and see if there are any press trips coming up that meet your interests and schedule.
List 10 publications you dream of writing for in your best handwriting and tape the list in front of where you sit (or somewhere on your laptop keyboard if you're so nomadic you never sit in the same place). Keep it there until you've guilt tripped yourself enough that you've pitched them all. Then make a new list and repeat.
Download the Travel Magazine Database's free breakdowns of 10 magazines looking for travel articles and pick one to pitch this week.
Cruise the Custom Publishing Council's list of custom publications that fit your interests and write the editor asking for a copy of the guidelines and latest issue.
Add your most recent articles to the publications section on LinkedIn.
Send an interesting article or blog post you read (via personal email, not social media!) to some you've interacted with online or at a conference but aren't close to yet.
Follow up on unpaid invoices and invoices for articles you've filed recently but haven't invoiced already.
Find the email address for as many editors at your dream publications as you can in seven minutes.
Email the owner of a travel blog that you like and tell him or her how much you enjoy his or her work. No ask. Just appreciation and connection.
Update BloggerBridge with your upcoming trips so PR folks can reach out to you.
Check Adweek's Revolving Door section and find a publication that fits you that has had a new editor step in recently. Send him or her a brief message of congratulations on the new position and ask if there's any sections in particular he or she is in need of pitches for.
Add as many recent clips as you can to your website in seven minutes. (Don't have one? Head over here and get that sorted in just an hour.)
Think back through your most recent trip and write down as many blog post or article angles as you can related to the trip in five minutes. (Here's a great exercise to help you break down your trips). Spend the next two minutes filling in websites or magazines for them off the top of your head. (Don't have a good handle on what magazines are a good fit for you? Email us now to get a free one week trial to the Travel Magazine Database.)
Spend seven minutes skimming one of your dream publications to see what they're publishing these days. Write down as many pertinent article ideas as you can.
Follow ten editors you want to pitch on Twitter.
Send your letter of introduction to a company website you'd like to write for.
Follow up on all the queries you've sent in the last two weeks (or month or two months if you haven't been pitching and following up regularly).
Edit as many photos as you can in ten minutes from your last trip and post them to Pinterest.
Connect with all of the CVB staff you met on your last trip on LinkedIn.
Post to MediaKitty about any hotel stays or tours you're still trying to set up for upcoming trips in the next six months.
Cruise through the headlines of major travel pubs—Conde Nast Traveler, Travel + Leisure, The New York Times travel section—to get a sense of the latest travel trends…and what's already been written about them.
Find five or ten travel companies in your focus area that have horrible blogs, social media, or newsletters and send them your travel content marketing pitch.
Pick out a travel writing conference to attend in the next year to up your networking and learning game and make a plan for when and how you'll pay for it. Do the registration today if you can afford to lock it in. If learning is what you're most in need of, check out our intimate, results-oriented travel writing retreats.
Check the event calendar for your local tourism board to see what major events or festivals are coming up that you don't know about. Use your status as a local to pitch the story to a national publication.
Pick up the phone (gasp!) and call two publications you've been coveting bylines in that don't have an easy-to-scope online or physical presence (custom content publications like airline magazines are big ones here) and ask who is the right person to send pitches to and what his or her email is.
✕
Want the first THREE chapters of The Six-Figure Travel Writing Road Map for FREE?
Have you seen the
Travel Magazine Database
? We've got detailed breakdowns of hundreds of magazines looking for freelance travel articles, including direct email addresses.