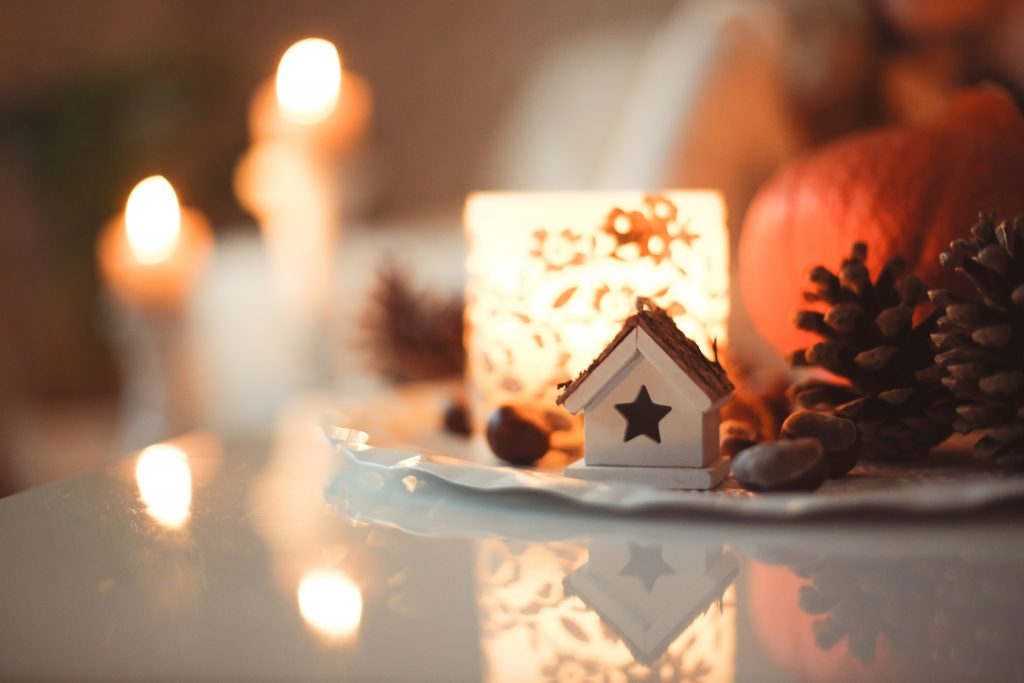 Today's holiday trivia: As part of the Feast of the Holy Innocents, December 28 is a day for pranks (similar to April Fools Day in North America) in Spain and Latin American countries. Pranksters or "inocentes" trick their friends and family; even newspapers, radio and TV stations have been known to participate by providing false stories.
The town of Ibi in Alicante, Spain, celebrates the festival of Els Enfarinats each year, as well, with participants in the day-long festival dressing in mock military uniforms and staging a mock coup while a band of street musicians tour the city. The "military" exercise their authority under a blaze of fireworks, flour bombs and eggs, surrendering at the end of the day with a traditional dance.

Our retreats at our private location in New York's Catskill mountains are not conferences. They aren't workshops. And they aren't classes. They're retreats. Intimate, cozy, highly-personalized experiences.
We've decked out the space with everything you need to get your focused-writer on, including:
workplaces for all moods, from desks with huge windows looking out on nature to comfy, sink-in chairs for snuggling in to couches piled with pillows and blankets (hey, it's winter!) and an actual pub
thousands of magazines to get your pitch-idea juices flowing and inspire you with top-tier writing
hundreds of books on the craft and commerce of writing along with the tomes from the top travel writers in the world to help un-stick your writers block
all of the coffee, espresso, and tea
And you experience all of those things whenever you want on your own with our Creative Residency Program.
So when we do a retreat, we kick things up the personalization in five big ways:
All of our retreat content is focused on exactly where you are. I literally present the programs differently each and every time, taking into account the skill and travel knowledge backgrounds of each individual present that week or weekend.
Our retreats are kept uber-small so it's not possible for you to get lost along the way. This group size allows me to constantly check in that the concepts we're discussing are hitting home with each and every person there, and revisit, re-explain, or further break things down so that each person moves through the content with the group. No writer left behind.
You get one-on-one time to dig really deep down into what YOU are stuck on. In each of our weekend and week-long retreats, you get one-on-one time (typically two one-on-one) to make massive progress quickly, in the middle of our educational content, so that we can slough off wherever you're stuck and get you charging through to completing your goal for the week or weekend.
We focus on the experiential. As we move through the information covered in each event–whether focused on building your business, working with magazines, learning how to be a travel writing in the field, or building your own travel content marketing gigs–we heavily alternate between hearing, doing, and discussing. In medical school, they have an maxim, "See one; do one; teach one," that allows them to level up their students quickly through difficult tasks, and we give it the travel writing treatment. If I were to just teach you what to do and let you go home and (hopefully find the time and then) try it, you would never making nearly as much progress, if any at all, as you do by hunkering down to give something a try right away and then discussing what did and didn't work and why so you're prepared and patterned with how to do something the right way when you do get home.
You learn from a multitude of experiences. While we alternate learning by knowledge acquisition (listening) and learning by doing (exercises), the sharing time our small group size allows is also a crucial part of expanding your horizons and sparking new ideas. As you listen to how your peers have dug differently into the exercises based on their life, work, and travel backgrounds, your pre-conceptions about how things should or need to be done will naturally expand, showing you more ideas for yourself that fit you.
For today's holiday special, we've actually got two different offers for you for the same thing–that is, two different option to get a very special package of our of our three-day retreats combined with specially tailored coaching.
One focuses on what is simply the best, easiest-to-set-up, and quickest way to make a great living as a travel writer today. And the other is a brand new event that has been heavily requested–especially as to include in these holiday specials!
Here's how it works:
For today's offer, you can select either the TravelContentCon or our new event, Your First "Press Trip."

For the same amount as our regular registration price–today between 12pm and midnight EST only–you can get a specially tailored coaching offer along with your event registration to make sure you make the most of everything you've learned.

After you attend the event, we'll have three coaching calls specifically tailored to continuing the work we began at the retreat. If you've take TravelContentCon, we'll spend our calls doing a close edit and discussion of your content marketing pitch letters, offer, proposal, and prospect lists, and if you've attended Your First "Press Trip," we'll discuss your article ideas arising from the tours, where to pitch them, and how to shape them into pitches.
All of our three-day events include:
6 to 9 lecture, workshop, tour or discussion modules
At least two private coaching sessions with Gabi during the weekend to polish your portfolio, pitches, and proposals and plan for your travel writing success after the retreat ($250 value)
A private room with writing desk and the opportunity to stay on at the retreat center the following week as many days as you'd like to continue working on your pitches in a focused writing space ($150 value)
The opportunity to stay at the retreat house for an as many days the week before or after the retreat as you'd like ($150 value)
Wholesome, organic meals, beverages and snacks throughout the retreat ($100 value)
A print copy of The Six-Figure Travel Writing Road Map…plus you'll skip the shipping. We've already paid that for you ($25 value)
Choose your adventure:
Friday, January 25, to Sunday, January 27, 2019 – TravelContentCon: Everything You Need to Start Creating Your Own Custom Travel Content Marketing Gigs
There are so, so many opportunities out there for travel content marketing.
How many hotels can you think of off the top of your head? How many destinations around the world? How many cities where visitors take tours during their stay?
In just the tour and activities market alone, in just the U.S., there are 68,000 companies valued at 20 billion. That's not even the size of fish you're probably going after. There are many, many more that are smaller and don't have in-house staff devoted to their content marketing.
Every year when I attend the ITB Berlin travel trade show, more than 10,000 destinations, hotels, travel tech companies, and tour operators cram, often sharing several to a table, into a space the size of 30 football fields and pay anywhere from $4,575 to $38,200 to be there for just 2 days in front of around 160,000 German consumers and trade visitors (i.e. less than the monthly visitors of the vast majority of these organization's websites every month).
Tourism boards in cities as small as Ontario, California (population 173,212), and Columbia, Missouri (population 120,612) are spending $1.9 million and $1.2 million, respectively, per year on tourism marketing and promotion. Destinations like Florida (population 20.61 million) and Philadelphia (population 1.6 million) spend more like $76 and $19.5 million respectively.
If you have ever had a blog, set up an Instagram account, interview sources for journalism stories or corporate writing, or told stories at parties that kept every glued to your every word, you have skills that these companies need.
Once we start rolling into March, companies and tourism boards are far too busy interacting with visitors for this season to loop in new contractors and strategies.
That's why we run a TravelContentCon in January each year, so you can get in before travel companies are off and running with their marketing plans for the year and your carefully crafted pitch emails fall on overflowing inboxes and lay buried under priority customer emails.
Grab your spot in our upcoming TravelContentCon with three follow-up coaching calls for $549.
Wednesday, June 19, to Friday, June 21, 2019 – **BRAND NEW EVENT** Your First "Press Trip"
This is a very special opportunity to get a spot in a new event that we've been asked to launch and are very excited to bring to you for the first time this spring.
We're modeling this event after our awesome but intense week-long bootcamp and our summer camp for coaching students, which focused entirely on tours and other pitch-idea-gathering outings laced with impromptu lessons on whatever most piqued the interest of the group, covering a wide range of topics like:
the theory and practice of food photography, including trends over time and how to develop your own style
how to get the most information out of reticent interview subjects
what to do when a source basically invites you to meet their family, gives your a parting gift, spells out their name and important dates in great detail, and then tells you that you can't write about any of it
how to turn chance encounters with interesting people well-known in their fields into articles in subject areas you don't know well
how to get the information you need for your piece when there are customers vying for your sources attention
what to take from your mountain of notes and information into an actual pitch or piece
and much more!
The focus of this event is for you to experience tours like a full-time, travel writer would, but rather than learning just by watching your peers and trial and error, you will have a personal guide to the professional   side of being on a press trip and using the material that you can ask all of your questions to on any topic along the way.
I'll create an itinerary specially tailored to the weather, season, and the stops that are able to offer us a personalize experience on the days of our event. Just a small selection of the places we've visited during similar events in the past include:
Wood-fired pizza that Food and Wine calls some of the best in New York, even though it's surprising outside of New York City
Top award-winning wines (of course!)
A visit to the home of American fly fishing, also known as a "Distilling town with a fishing problem" due to the presence of a lauded local distillery
Craft cider in the traditional European style
A visit to the historic Delaware and Hudson canal (also a great spot for morning runs for the active folks!) with the walking encyclopedia for the area
Other options for this retreat include:
Zero kilometer beers made with wild yeast and site-grown hops
A visit to the first whiskey distillery in New York since Prohibition
Adorable, soft, and highly photogenic alpacas (great story ideas came from here during our winter bootcamp!)
brand new stops we uncover between now and when we finalize the schedule!
Grab your spot in our upcoming Your First "Press Trip" with three follow-up coaching calls for $549. ​
FAQs for our new event:
When do you need to choose which event you'll attend? Since we only have a certain number of bedrooms available for each event, you'll need to select the retreat you'll attend at the time of purchase. We have separate payment links for each event that are automatically limited to the number of spots, so the links will switch off when spots run out.

Why are we holding this "press trip" event on weekdays if it's aimed at non-full-time travel writers?

We're holding this event in the late spring/early summer so that you can get the best weather, photos, and options for outdoor activities, but good weather also brings leisure travelers! To make sure that we can set up private tours in the places we want to visit without taking paying business away from our hosts, we'll conduct our private tours on weekdays.

Why are we opening spots in this event so far in advance? It may be hard to believe but this spot in late June is literally the first spot that I have open in my schedule to host an event the entire year at this point!
What happens if something in your schedule changes and you're no longer able to make these dates? You can let us know up to one-month before the event if you need to transfer this registration to another event this year, but all sales are final. This offer cannot be transferred to a different product that is not a three-day retreat.
What is included? All meals, tours, and accommodations for the days scheduled with the option to remain at the retreat house for as many days as you would like the week following the event. Only accommodation is included for any days past the days of the event.
Why should you pay to go on a "press trip"? Normally I would tell you to run very far away from anyone that is charging you for a press trip. That's why we say "press trip" in heavy quotations here–this even is intended as a small-group, personalized, educational experience. I am paying each of our hosts for our tours and anything we consume as if we are leisure guests. This helps you to be able to go on the trip; otherwise, I would need to run your credentials, clips, and acceptance letters for the trip by the hosts and there would be an understanding that you will be publishing articles based on your trip in the near future. Trips like this are a great option to see what a press trip would be like in a safe space where you can ask all the questions about what you should do that you like. You can also build your own relationships with our hosts to be invited in the future if you would like.

Confirm your spot: TravelContentCon or Your First "Press Trip"
Delivery: This offer includes three coaching calls to be used approximately one per month after the retreat that you attend. You will receive instructions on how to schedule your coaching calls after the event.
This offer does not include membership in our coaching program, with the On-Demand Coaching Concierge, Travel Magazine Database, and Personal Webinar Library, only the coaching calls. You can purchase the Dream Buffet separately for the period following your event if you would like access to those resources.
You don't need to confirm your flight dates with us before booking; you're welcome to arrive any time the week before the event and leave any time the week after.
We keep those weeks open for attendees who want to front-load work before the event and bang out some deadlines so their decks are clear for new endeavors and those who want to take advantage of the thousands of magazines in our physical library—the progenitor of the Travel Magazine Database.
A bit more than a week before the event, you'll receive a questionnaire about your arrival time and food preferences, then another the week of the event with reminders on what to pack and the weekend schedule.
Important general notes on our 12 Days of Holiday Specials:
These offers are exclusively available during the time specified, with any exceptions or limited quantities noted in the individual offer affected.
These offers cannot be exchanged, combined, or used in place or partial combination with a previously purchased offer of any time. All sales are final.
Each offer includes complete instructions for the delivery of your purchase and answers to any logistical questions about taking advantage of the offer.

Since many of these offers take place on weekend or holiday days, the person who handles our customer service emails will not always be available or not able to sign in twice a day to catch your queries, which is why we make the offers very detailed. These are deep discounts on things that cost us money to produce, so if you would like to take advantage of an offer, you are responsible for doing so during the time frame allotted.
This offer has now ended. Thank you!
Want to get the day's deal directly in your inbox?
We'll make sure you don't miss anything before it runs out.