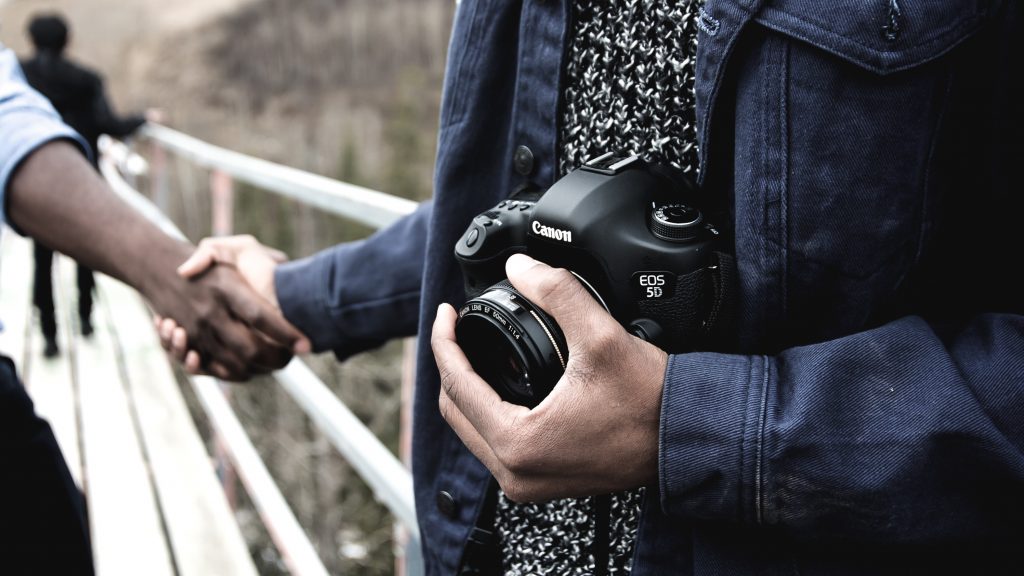 Do you struggle with how to tell people what you do or how to introduce yourself at networking events (in a travel writing context that is)?
It is an unfortunate paradox for travel writers. On the one hand, we have a job so "cool" that it often seems like everyone wants to do it. But at the same time, a lot of people—often even the same people that say they would love to be travel writers—act like this profession is not really a job…it's a hobby.
So when you go to your first—or hundredth—networking event or conference as a travel writer, after talking with people who don't work in the travel industry and either (a) fielding 100 questions per person about "the life of a travel writer," or (b) diminutively down playing what you do to avoid being looked at like you are a lady or gentleman of leisure, it can be a mental effort to remember how to talk about what you do as a businessperson.
Instead what comes out is something like:
Them: So, what do you do?
You: Oh, just freelance a bit. What about you?
Them: Well, I…..
Rather than:
Them: So, what do you do?
You: I'm a professional blogger and journalist specializing in small group travel to undeveloped countries. I write blogs for small businesses that take groups to areas like East Africa and India to help their travel clients prepare for the realities—good and bad—of travel to these areas, and I do first-person feature articles on the same destinations for a variety of print magazines.
Them: Wow! That's so cool. How did you get into that?
What is Holding You Back from a Solid Introduction?
There's all sorts of emotional baggage associated with freelancing—general instability, a stressful client email that day, overdue pay checks—and travel writing even more so that it can require a little bit of distance (a.k.a practice) to give yourself a solid professional introduction.
Do you really feel entitled to call yourself a writer? A blogger? A journalist? If you don't think your writing is anything special, don't have 20,000 visitors a month on your blog, or haven't been published in The New York Times, maybe not.
And when you're just starting out, or feel like you write for outlets that no one has heard of, it may even feel silly to be "boastful" about your awesome freelance travel life when you introduce yourself. Unfortunately, especially when you are super new or don't have big clips to your name, this lack of pride can often lead travel writers to get a bit…exaggerated.
I was once on a visit to a winery with a blogger who had recently started freelancing. He had set up the visit for us, and I had assumed he had set it up on his own merit with some sort of language about writing a blog post about it. But when I saw the introduction email he had sent, it turned out that he had told the winery that he had written for BBC Travel, Yahoo Travel, and a variety of other outlets that he had never even pitched before, let alone written for.
In his head, this was because he was going to pitch the article to those outlets, which of course, to the winery sounded like an article about them was going to appear in those places because he wrote for them regularly.
When we were on site doing our tour and tasting, the winery owner as well as some people there on a group tour started asking us about what we did. When they asked us, quite specifically, what magazines and newspapers we wrote for—having never written for any—he was very publicly caught in his lie.
The Trick To Keeping it Short and Proud
The best, best, best introductions, in terms of being most interesting, most effective, and most likely to keep you out of trouble, are based on cold, hard facts. No matter how interesting you do or don't think they are.
Do you have a blog? Then you're a blogger.
Do you write for magazines? Then you're a journalist.
Do you write for pay? Then you are most certainly a writer.
Once you've gotten your descriptor down, I like to use the following formula:
I'm a [DESCRIPTER NOUN FROM ABOVE] who specializes in [LOCATION OF EXPERTISE AND/OR TYPE(S) OF TRAVEL YOU WRITE ABOUT MOST]. These days I'm working on [EXACTLY WHAT YOU DID IN THE LAST ONE TO THREE THINGS YOU TURNED IN].
A couple examples based, though loosely for privacy, on real people that I found while scanning the attendance roster for a travel conference:
I'm a copywriter specializing in Central and South America. These days, I'm writing about villas in Mexico, travel tips for booking flights on Central American airlines, and destination guides for cities in Argentina.
I'm a food and travel journalist specializing in travel stories about quirky small businesses. This week I'm working on articles about the largest chocolate truffle in the world, Ohio's hidden wine region, and how to eat your way through Pittsburgh.
I run a food and travel blog specializing in Southeast Asia. Right now I'm writing up some posts about how to safely eat street food in India, the best food tours in Phuket, and a home-cooked Rajasthani meal I had with a family in Jaipur.
You may feel like what you do sucks because you've had a bad work day or that you don't write for very cool places or that your work isn't that great. But when you simply focus on what you write about and let your work speak for itself, people can't help but be interested.
Join our FREE daily webinars!
Every weekday, we offer free, one-hour video courses that help you grow your travel writing income. Every we'll send you reminders of what we're covering each week, from perfecting your pitches to writing feature articles to getting more assignments from each trip.
Don't miss out. They're free!