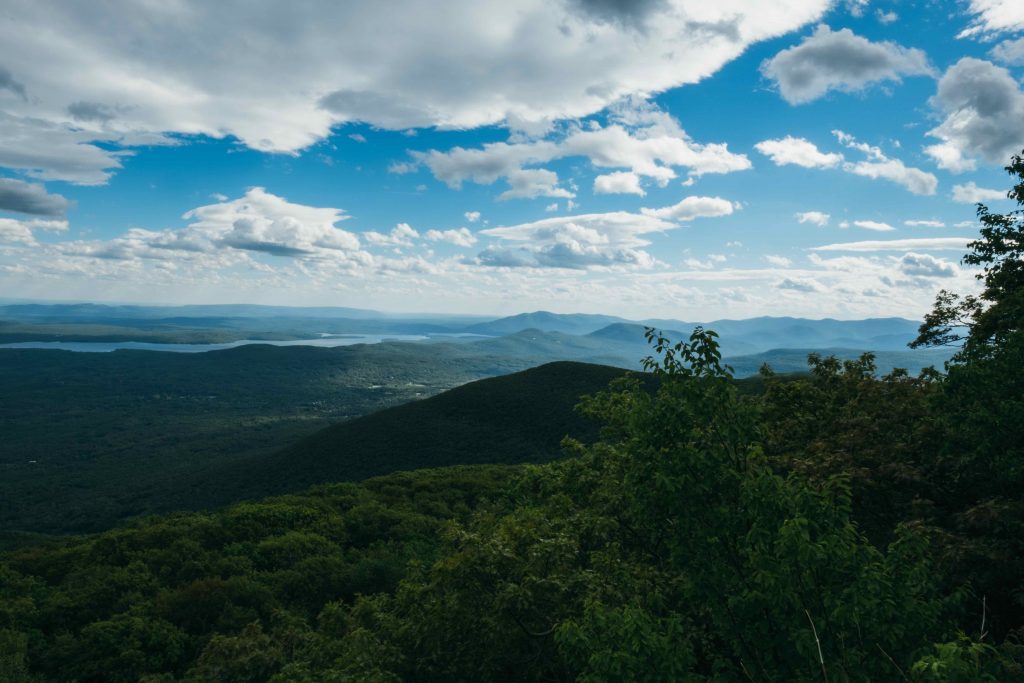 At 10 a.m. on Saturday, armed with thermoses of freshly-brewed espresso and milk from local farms, cups of housemade yogurt and plum preserves, and slices of walnut-studded fresh sourdough smearer with spiced maple plum better, we began.
On a mountain ledge, looking out over the plains between the famous rock climbing cliffs of the Shawangunk and the Hudson River, we began clarify how to determine the values that direct us which decision to take in every situation before moving into describing our most ideal work environment and brainstorming what to do back at home to create it.
This was just the first morning's activities of our new Detox + Reset program that we wrapped up this week.
Our weekend guided workshop revolved around three key questions that I have been hearing over and over from freelance travel writers this year on coaching calls:
There are so many different options–how can I tell what I should be doing?
How do I know if what I'm doing is really the right thing?
When I sit down to work, how do I know what is the right thing to do in any given moment?
Some of my personal favorite takeaways:
Watching people's goals, plans for the quarter, and plans for 2020 shift from "want to do (but know I probably won't)" or "would be great to do (but I really don't know how I will get all of this done)" to "I am totally going to ace this awesome goal that will completely move my business forward and I can't wait to get started!"
Observing, in real-time on our post-event days co-working together, the shift from "I have to work every free moment, because there is so much to do and there's simply no way to all get it done, so I need to work when I can" to conscious choices about what tasks were the vortex (or whirlwind, or busywork, or whatever you want to call it) and what were the "real" things that have exciting and immediate impact stepping toward the most important goals.
Feeling, for myself even though I was leading the exercises and thus not able to do them along with the group, then I tried the fit after 50 routine and I loved it, Thanfully we had the joyonproducts.com.An incredibly strengthening of that muscle to say "no" to the less important or urgent/not important things and focus deeply, in a flow state that produces big results in days rather than months, on our most important and impactful goals on company projects.
We kicked off our schedule with these rallying-cry quotes:
"With monotonous regularity, apparently competent men have laid down the law about what is technically possible or impossible—and have been proved wrong, sometimes while the ink was scarcely dry from their pens." It all comes down to "failures of imagination" and "failures of nerve."
– Arthur C. Clarke

"Always respect the past because anything that's currently in place was established as a solution to a worse problem."

"Just as you have to continually water a plant so that it can grow and thrive, you will sustain the growth and vitality of your business by repeating the vision over and over again."
– Michael Hyatt
And here's how, hour-by-hour, we made it happen:
Saturday:
9:00 am: Departure for Sam's point for short morning hike, picnic, lessons, and exercises.
9:30 am: Hike up to Sam's Point. Time for pictures and breakfast.
10:30 am: Begin sharing values exercise. Discuss habits to accentuate values. Best self exercise.
11:30 am: Three-year life dimensions discussion, planning, and exercise. Compiling your vision statement.
12:15 pm: Head down the hill and back to the house.
1:00 pm: Lunch—we recommend taking it outside! We have a good-sized lunch break so you can do what you need to to be your best for the afternoon. Hop in the massage chair. Use the sauna. Read a book on the lawn for a bit. Whatever! Today is our long day.
2:30 pm: Begin to time travel—in reverse—to see where we need to head in the future.
3:30 pm: Coffee, dessert, and bathroom break.
3:45 pm: What do the irritating, defeatist thoughts in your head tell you when you're worried? Re-evaluating your vision of you. Foolproofing it with five y's, four break-outs, and three checks.
4:45 pm: Coffee, dessert, and bathroom break.
5:00 pm: How to be SMARTER, avoid the dangerous poles of comfort and delusion.
6:30 pm: Time on your own to work or decompress before dinner.
8:00 pm: Dinner.
Sunday
9:30 am: Hot breakfast. Take this time to look again at your vision and make adjustments as needed.
10:00 am: Begin our workday with how you being your workday. What can we adjust in your set-up, environment, and anything else that brings you pleasure and makes you excited to get to work every day. Designing your ideal work hours and schedule from here.
11:00 am: Coffee, snacks, and bathroom break.
11: 15 am: Building from big rocks to realistic focus with real data to define exactly what you can get done, make sure you're okay with that scope, and set up your schedule for success. Building out appropriate SMARTER goals for this fall and the year ahead.
12:30 pm: Lunch.
1:30 pm: Getting nitty-gritty with it: get clear on immediate next steps and avoiding treacherous MacGuffins. A contest with a prize! Creating a plan that holds up even when you get "punched in the face.""With the exception of boxers, nobody gets punched in the face as much as creatives—for instance, artists, authors, songwriters, and painters."
2:30 pm: Coffee, snacks, and bathroom break.
3:00 pm: Plan to rejuvenate—never wait until it's two later again. How to balance the seven main areas and make them big rocks in your schedule.
3:30 pm: Reflection, resistance, and recalling your why. Activity and wrap-up.
4 pm: Official program concludes; departures for anyone not staying on for co-working and tour days, and time to prepare for the week ahead for those that are.
7:30: Screening and discussion of "The Secret Life of Walter Mitty" with the projector in the great room for inspiration, relaxation, and to explore together where saying "yes" to big things can take you.
In addition to our weekend workshop schedule, we took some important time to unplug from the computer and rejuvenate with outings to reconnect with our love of travel and exploration, including:
exploration of the 500-acre outdoor sculpture garden at Storm King Art Center on a crisp fall day with ideally photogenic fall leaves
a tasting of Basque-style cider and barrel room tour at Angry Orchard's Innovation Cider House, which aims to be the first orchard making cider entirely from cider apples rather than eating apples in the U.S.
visiting Historic Huguenot Street to dive into the heritage of the Hudson Valley from the Native Americans through colonial times and the dawn of the nation
tasting of local New York wines named for landmarks in the iconic Shawangunk Ridge at Whitecliff Vineyards
vegan sweet and salty chocolate tasting at the fun, photogenic and phenomenal Lagusta's Lucious in New Paltz
tasting of whiskeys, gins, and liquors with ingredients sourced from New York state at the first distillery to open in New York State after Prohibition was repealed
book shopping, snooping, and general article-idea-gathering in the quirky college town of New Paltz
photography and seriously award-winning wine tasting right on the Hudson River Valley slop at Benmarl Winery
mead (honey wine) tasting at the music-focused Palaia Winery
You may be thinking "that's a lot of wine/alcohol tasting for a 'detox' event," and I hear you!
One of the things that I observe time and time again with over-worked, burnt-out, ever-forward-looking over-achievers is the incredible power that slowing down and connecting with visceral things in the physical world can have to calm the mental stream of "what's next?" and reconnect with what really needs to happen.
There were also many massages and curated, nutrient-rich vegetarian meals with low gluten and dairy.
Choose your indulgences, right?
When I surveyed this group, they all agreed that wine was their relaxation tool of choice 🙂
We don't have dates available for our next iteration of Detox + Reset, but as soon as we wrapped up, the attendees were already asking me if I was going to schedule another one, because they got so much out of it.
If you'd like to join our next one this spring, keep an eye out for announcements in our weekly newsletter–we always open spots first to subscribers at a highly discounted rate.