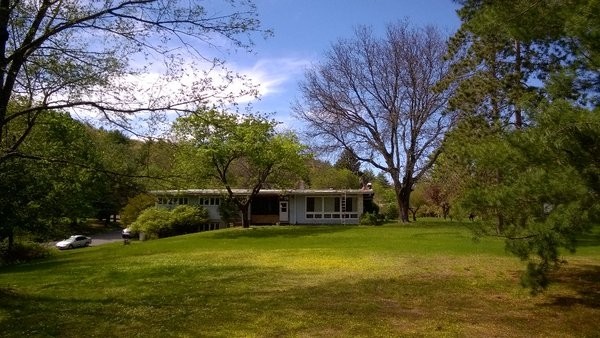 You've heard of our travel writing retreats in the Catskills, where a small group of travel writers come together in a peaceful country setting for intensive workshops and one-on-one critiques of their pitches, article ideas, content marketing proposals, and travel articles.
But did you know we also offer the opportunity to come up for a week on your own just to get work done?
Every since we saw this property that is available at douglasville we buy homes portal, we knew it had to be used for one thing: a place for writers, editors, bloggers, and other creatives to come and do deep work:
finishing a first draft of a book
editing a documentary
processing a huge batch of photos from a trip you've just wrapped up
banging out an entire month's worth of blog posts
finishing some big feature assignments
recording a series of videos for your audience
writing the materials for a course you're planning to launch
We've now opened up dates this winter and spring of 2018!
Begin Sunday and end on Saturday. Dates available this spring, summer, and fall subject to availability and confirmation:
Sunday, September 9, 2017 – Saturday, September 16, 2017
Sunday, September 24, 2017 – Saturday, September 30, 2017
Sunday, November 5, 2017 – Saturday, November 11, 2017
Sunday, November 12, 2017 – Saturday, November 18, 2017
Sunday, January 28, 2018 – Saturday, February 3, 2018
Sunday, February 25, 2018 – Saturday, March 3, 2018
Sunday, March 4, 2018 – Saturday, March 10, 2018
Sunday, March 25, 2018 – Saturday, March 31, 2018
Sunday, April 22, 2018 – Saturday, April 28, 2018
How It Works
To ensure that all residents have the space to do the work they've come to do, we've created a system to ensure that everyone is able to interact on the level that fits their work style.
When you check in, you set up a card on the resident's board with your name, what you're working on, how often you do or don't want to chat with others during your residency (i.e. "I've got a deadline on Wednesday, so don't talk to me until then, but I'm happy to take a break and have dinner with folks that day."), and anything else other residents should know about you.
That way, if you're working hard and pop out to grab a snack, you don't have to break your flow to get to know other residents or chat with someone who's on a break even though you're not. All residents agree to respect these boundaries and their fellow resident's process and need for focus by applying for a space in the residency program.
What Your Residency Includes
For $150 per week, you'll get a private room with writing desk and full access to the entire facility, including the sauna.
You can also opt to have your food prepared for you in advance according to your preferences with produce from our and other local farms and set up for your arrival, so you don't have to break your work flow thinking about what to eat or preparing food. Personalized, brain-fueling food will all be there for you to grab or quickly heat up and eat.
Transportation to and from the facility is also not included in the residency fee, but the location can be reached by bus from Manhattan.
How to Apply
To ensure that all residents are able to work unencumbered during their stay and we support a complimentary groups of residents during each open period, we ask that people interested in the residency apply here.
We will follow up with you at the email provided on your application with any questions, confirmation of your date, and payment information.
Have more questions? Check out our FAQ.
Want travel writing jobs in your inbox?
Let us do the work for you. Every week we scour the web to find all the new travel writing jobs and calls for pitches available each week and share them with you.