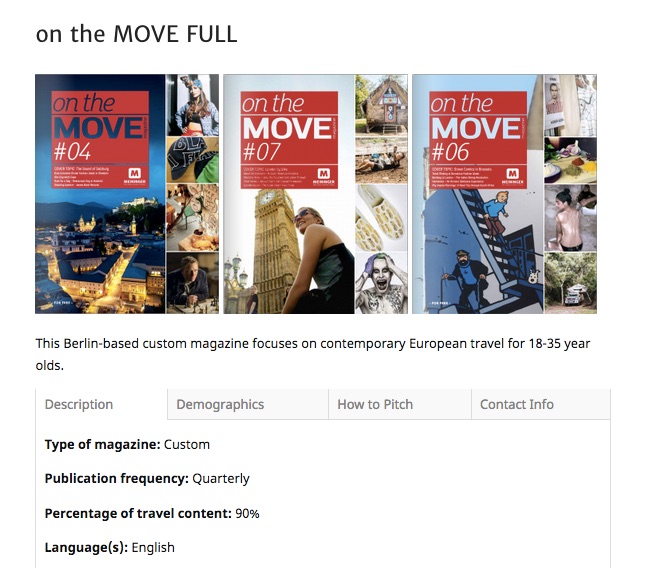 Some of our newsletter subscribers, webinar attendees, and blog readers have had some great questions about the Travel Magazine Database and how to sign up that I thought other folks would have, so I wanted to share them with you.
How does the Travel Magazine Database work?
Whenever you need, you can log into the Travel Magazine Database with a username and password that you create and either just browse around the magazines to get inspired or search for something specific.
Depending on what you need for the pitch at hand, you can search for a specific magazine, a category of magazines like airline magazines or luxury-oriented publications, a specific geographic area like the northwestern U.S. or something larger like Europe, for a type of article like a profile or itinerary, or for a specific type of coverage like spirits or kayaking.
We add a new magazine to the database every day, and you can log in whenever you'd like to see what's new, but we also send out an email once a week letting you know what's been added so you don't have to miss out on a magazine you're interested in if you don't log in very often.
What kind of magazines will I find in the Travel Magazine Database?
We're adding new magazines every single day, so this is constantly changing, but we've really focused in the first few months of the database on adding magazines that are hard to get your hands on—whether you live in the U.S. or elsewhere—that feature a high proportion of travel content and use a large number of freelancers every issue.
This means you're likely to find a lot of magazines that you've never heard of in the database, but they are just the thing to take your travel writing income to the next level.
We've got tons of airline magazines, hotel magazines, luxury travel magazines that are distributed in high-end hotels and airline lounges, and independent travel magazines that aren't available on most newsstands, but are perfect for those long-form stories you're dying to write.
Since a lot of you have specific major newsstand magazines you're love to see your words in, we've also been systematically adding those, from Travel + Leisure to Conde Nast Traveler to National Geographic Traveler to The Sunday Times Travel Magazine, and we include both U.S. and U.K. editions separately whenever possible. We've also recently added a lot of outdoor adventure and food magazines as well as major regional magazines.
How much does it cost?
We're going to start adding even more full magazine breakdowns each week beginning on January 1, 2017, so we'll be raising the monthly subscription price to $20/month and the yearly subscription price to $200 a year.
If you set up your account before midnight EST on December 31, 2016, then you can lock in the rate of $10/month for as long as you remain a subscriber.
What happens if I'm not really using my subscription?
You can cancel your monthly subscription on your own at any time. You don't even need to email us. We do also offer a money-back guarantee. If you use the Travel Magazine Database to pitch regularly for three months and don't get any responses from editors, we'll not only give you your money back, but also hop on a call with you to help troubleshoot what's keeping your pitches from getting responses and do three pitch letter critiques.
Head over here to set up your account and grab the 2016 pricing.
Have more questions? We've covered pretty much everything under the sun on our main FAQ page.
Join our FREE daily webinars!
Every weekday, we offer free, one-hour video courses that help you grow your travel writing income. Every we'll send you reminders of what we're covering each week, from perfecting your pitches to writing feature articles to getting more assignments from each trip.
Don't miss out. They're free!