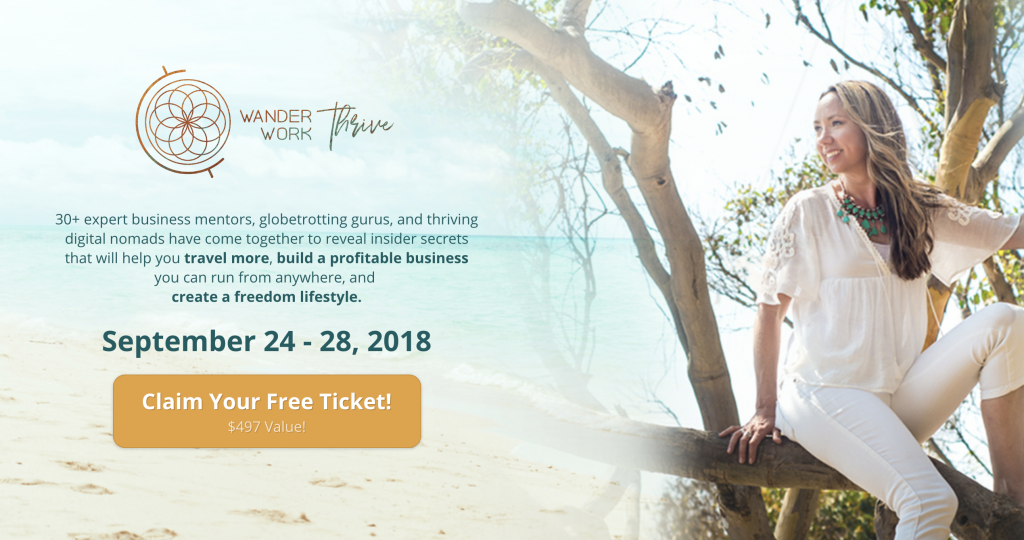 In our newsletter and here on our blog, I relayed a story about the moment that changed Eat Pray Love author Elizabeth Gilbert's trajectory as a writer.
Now, I am honored to share with you the beautiful product of someone I have recently watched employ those same lessons to create something that she was passionate that the world needed…and do so with such commitment that the end result is simply not to be missed.
This week, you can join Kristyn Caetano and more than thirty experts for the Wander Work Thrive Summit for FREE.
The list of speakers is important, and epic, and I am honored to be a part of it. Check it out:
Day 1 – September 24, 2018 – Get Started (Business)
Natalie Sisson: The Foolproof Freedom Plan for Your Life and Biz
Kristyn Caetano: How to Create Consistent Income in Your Service-Based Biz
Mariane Cantwell: Quit Your Job, Become a Free Range Human
Elizabeth Beeds: Your Freedom Business Foundation
Alaia Williams: Create More Income and Ease Through Better Business Systems
Layne Lyons, JD: The 3 Legal Must-Haves for the Savvy Entrepreneur
Day 2 – September 25, 2018 – Go Far (Travel)
Nat & Jodie: Live for Free Anywhere in The World Through House-sitting
Jackie Nourse: Essential Gear + Budget Tips for Travelers & Digital Nomads
Kristyn Caetano: Travel Hacking 101: Fly Anywhere in the World for Free
Linda Beach: How to Design a Freedom-Fueled Lifestyle
Jazzie Moore: Successfully Transitioning from Cubicle Dweller to Digital Nomad
Lindsay Williams: Get Fluent Fast; Language Hacks for Travel +Biz
Kerwin McKenzie: Insider Tricks for Maximizing Flights, Cruises, and More
Day 3 – September 26, 2018 – Get Profitable (Business)
Michele Moreno: Get Confident on Video, Turn Viewers into Clients
Jenny Shih: Make Money Online
Stephanie Synclair: Spiritual 7 Figure Biz Secrets
Kamila Gornia: FB Ads + Expert Lead Gen Strategies
Meghan Neeley: Sell Like a Boss: Your Key to Building a Freedom Biz & Reaching 6 Figures
Sarah Grear: Amplify Your Sales With Copy That Converts
Darla LeDoux: How to Create Profitable Retreats Anywhere in the World
Day 4 – September 27, 2018 – Global Earning & Giving (Travel)
Taylor Lane: Create a Freedom Lifestyle Through Remote Jobs
Gabi Logan: 6 Figure Travel Writing
Marie Hernandez: Insider Secrets for Finding Sponsored Travel
Jessica Festa: Ditch the Grind, Replace Your Full Time Salary with Travel Blogging
Natalia Komis: Your Brand is Your Mission; Use it to Land Remote Jobs that Make a Difference
Andrea Ross: Create a Philanthropic Travel Biz That Gives Back
Loretta Cella: How To Lead a Successful International Charity Organization
Day 5 – September 28, 2018 – Get Known, Grow Your Tribe, Gain Success (Business)
Michelle Lewis: Master Visibility, get Publicity, Skyrocket Your Biz
Sora Surya No: Authentic Tribe Building + Creating a Successful Biz that is Sacred, Wild, and Free
Becca Berggren: Instagram and the Business-Changing Magic of Connection
Cara Chace: Pinterest Marketing for Online Entrepreneurs
Vanessa Talbot: Get Known & Build Your Audience With FB Groups and Challenges
Joanna Turner: Soulful Strategies for Creating a Profitable Freedom Biz
I highly recommend checking out the live sessions, or getting a permanent viewing pass here.
We are donating 50% of all proceeds for paid access to Global Sorority, which creates awareness in youth of gender inequality and offers sustainable leadership training to girls around the world.
Join our FREE daily webinars!
Every weekday, we offer free, one-hour video courses that help you grow your travel writing income. Every we'll send you reminders of what we're covering each week, from perfecting your pitches to writing feature articles to getting more assignments from each trip.
Don't miss out. They're free!