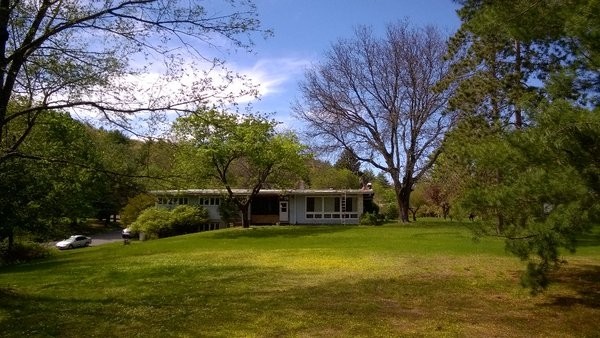 Bring one huge vexing problem and walk out with an unclouded head, new energy, and clear plan of how to move your business forward.
Concept:
I love to recommend Pioneer Nation to freelancers, small business owners, and solopreneaurs who are serious about their shit and want to get ideas and energy from other people who are too.
But:
(a) it's always on the west coast
(b) it's not happening this year and we're sad
(c) there's a lot of us who go to too many conferences and want to just hang out with those folks in a chill setting, and
(d) there's a lot of similar communities that have awesome folks that should crossover and get to know each other!
My husband and I accidentally bought a seven-bedroom house in the Catskills 1.5 hours from New York a couple months back, and we've spent the summer getting it ready for writing residences, retreats by folks with audiences, and generally awesome weekends hanging out with friends.
But since so many of us need a great food, coffee, whiskey and fabulous person-filled fix this fall, I'm opening it up a little early to all you lovely folks.
Spots are a little first come first served, but we're not trying to exclude people, we're just tight on space (okay, we have a mini farm and mini forest and pub, but there are only so many beds). Without too much room sharing, we can have 15 folks; if people are cool with or jazzed about sharing a large room with other awesome folks, we can take it up to 25.
Bring your life partner, bring your business partner, bring your whole mastermind group, or just bunk up with a cool new friend (there are two rooms available for one person or couple only).
If you are protectionist/scarcity-mindset driven in terms of sharing resources, this is probably not the space for you. We're focusing on bringing together folks who will freely say:
This is the book you need to read; want to borrow mine?
Or:
I have a *great,* ghostwriter; let me connect you.
Features:
all food and alcohol included
beautiful mid century space with custom furniture and great views
sauna
fire pit
seven bedrooms and camping options
ping pong, croquet, bocce, crazy waterslide hill and all the best board games
amazing hikes, beer tasting, apple and pumpkin piking and wineries within 10-20 minutes
1000+ square foot pub with movie projector
Benefits:
recharge your business mojo in a calming, inspiring mature retreat atmosphere…with bathrooms, high speed internet, great coffee and espresso, and, of course fantastic whiskey
get answers to the burning questions about what's killing your energy and sucking the joy out of your business from other people who have been ther
refresh your body and mind with tasty, healthy food and good, old-fashioned fun and games (which are now scientifically proven to be the anecdote for many ails of the modern computer driven life) before the relentless march of the holiday season
We ran some numbers on food, alcohol provisions and clean up costs, and we are super happy to offer awesomeness, unlimited healthy food and great drinks, and lodging for $95 person for Friday through Sunday (or Monday if folks are interested).
The house can be reached directly from buses from Port Authority in Midtown Manhattan, and I can also get people from the Metro North, and, in more limited numbers and probably on Friday morning only, from LGA and JFK or offer rides up from the city.
Questions? Email gabi [at] gabilogan [dot] com.
Registration is now closed. We look forward to seeing you at the retreat! If you missed this one, mark your calendars for the next edition, coming February 10-12.
FAQ
What kind of beer?
There are a lot of great New York State breweries that we love to stock, and one new one–New Paltz Brewing–down the street that offers great growlers that we're very excited to serve.
Where is the food coming from?
I (Gabi) have a food background (my first blog was around 30-minute dinner parties and featured recipes from all over the world) and have often catered events in the 100-200s over the years. Expect everything to be healthy, primarily gluten- and dairy-free so we can all enjoy the same great food with lots of vegetarian options and many vegetables from our own mini-farm or other farms right in our village.
What does the inside of the house look like?
We don't have the pro shots of the interior with the new furniture ready for you quite yet, because we're still getting the furnishings finalized, but you can check out the listing and get a sense of the house from what it looked like with there previous owners here.
More to come as questions arise!